Holiday Flu. It's here. With Holiday music and shopping now in full swing, we know the season is winter.  It's true, although Orlando does not have quite the chilly weather present in other areas of the country.
But winter is a state of mind and the calendar,  just as Holiday is a state of the heart.  However, this is also flu season, and no one wants the Holiday flu. And Holiday Flu is what Florida Lung, Asthma and Sleep Specialists call the flu that hits our area about this time of year.
Real Holiday Preparation:  Did You Get Your Flu Shot?
With winter in full swing, holiday group and family events, busy schedules and changes in routine, FLASS hereby publishes a flu alert for you.  We hope you got your flu shot, back when FLASS first told you it was time to vaccinate against the new strains.
The Holidays indicate that winter is official, and that means you will see an increase in flu cases in Orlando.  And if you missed your flu shot, it's not too late.
Why Must We Face Flu and Holiday Rush at the Same Time?
So why must we face the flu just when we want to be at our best for the Winter Holidays?  First of all, let's look at the statistics:  "In the United States, flu activity typically picks up in the fall, and peaks between December and February," according to the Centers for Disease Control and Prevention.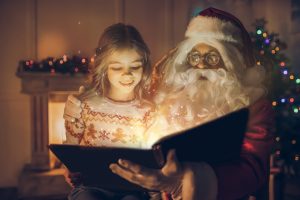 "However, flu season is unpredictable, and can start as early as October, and continue as late as May."
This week FLASS brings you some basic ideas about the cruel coincidence of Holidays and the flu virus.
The Flu Sneeze Holiday Freeze Frame
Now picture a sneeze or a cough in a school classroom or a business office hallway. (Yes, we know this is a creepy visual. It's like watching the flu spread.  You can see particles catching the light as they travel through the air.)
One study proposes that the colder, drier conditions of winter allow the flu virus to remain suspended in the air longer.
Likewise, the particles travel further in the cool winter air.  We know that slow-motion sneeze is a horrible visual.  But, while you see it suspended in slow motion and spreading contagion, check this out:
Microbes Wearing Holiday Coats
Some recent research found an outer coating on the flu virus.  It hardens up at cooler temperatures.  Then the hardened anatomic coating allows the mean little microbe to travel better in the cooler air.  And, wouldn't you know, it travels person to person, causing you to miss much-anticipated holiday plans?
The Summer Holiday Advantage
However, when the air is warmer, that nice protective coat degenerates into a more liquefied gel or a paste.  It's simply not a strong enough to protect the microbe against the elements. Thus, in the warmer seasons, the ability of the virus to spread weakens.
NICHD Director Duane Alexander explained, "Now that we understand how the flu virus protects itself so that it can spread from person to person, we can work on ways to interfere with that protective mechanism."
Moreover, Dr. Len Horovitz, a pulmonary specialist at Lenox Hill Hospital in New York City, stated, "The virus likes to live in cold temperatures in the air," and he added, "It seems to survive better in cold temperatures."
He added, "The study results open new avenues of research for thwarting winter flu outbreaks," said NICHD Director Duane Alexander.
Holiday Travelers Increasing your Flu Risk:  The Flying Flu
Another reason for the spreading flu is the custom of holiday travel.  Recently, during this year's Thanksgiving Holiday, the Dallas-Fort Worth area experienced the greatest rise in flu statistics since 2014.
Dr. Carrie de Moor, who works at Code 3, a clinic inside the Dallas Fort Worth International, stated,"During the holidays, especially peak travel time, there's going to be a higher likelihood of people in that confined space spreading it."
If you are suspected of being too sick to board a plane, the airlines can send passengers to that clinic for a "fit to fly" check. The Doctor says, "It's much better to stay home."Don't be the person who gets on the plane with a 102-degree fever, or who we have to tell you, 'I'm sorry, we can't let you fly because you're going to infect an entire airplane."
Flu Facts to Review Just For You–before the Next Holidays
Before the next major holiday, let's review a few facts about the flu:
The flu virus can live on hard surfaces for 24 hours.
You can spread it for a full day before you know you are sick because you won't yet be   "symptomatic."
We remind you to wash your hands often.
Cover your coughs, please.
Get your flu shot, please.
Did you know this was The National Influenza Vaccination Week?  The entire week is a national awareness week "focused on highlighting the importance of continuing flu vaccination through the holiday season and beyond."  We invite you to discover the excellent online resources of the Center for Disease Control about CDC's NIVW resources, vaccination messages, and activities.
Please adopt our healthy flu tips above, and join us in our mission to protect Floridians and their loved ones from the Holiday flu.
Remember, according to the Center for Disease Control, the vaccination is your best protection, and the doctors and healthcare specialists at FLASS add, your best insurance for the Happiest, healthiest, flu-free Holidays to come!